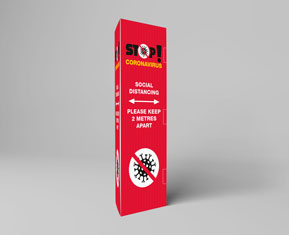 These three-sided Correx covers come pre-creased with glue-free fastening tabs and are suitable for bollards up to 205mm in diameter. They make for sturdy, waterproof displays and are commonly used for outdoor campaigns lasting 6 months.
Use covid-19 artwork shown (free artwork), or send us your artwork, or request artwork from ourselves (cost applies).
Once you have checked out your order you will be given an email with reference number.
Please send your artwork to
Hello@mediacityprint.co.uk
quoting your reference number.
If files are over 10mb please send via
wetransfer
to same email address.